Learn to kitesurf on one of Sardinia's most beautiful beach
A holiday under a kite for everyone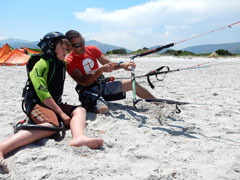 Wed Dreams Kite school is about half way in the dune field of the white sand beach of La Cinta in San Teodoro and offers its students a high standard of quality and safety.
Thanks to the extensive experience of our instructors who are senior IKO and FIV officials, learning to fly on the water gliding along the waves on a board becomes a fun experience for everyone: from beginners who want to get into this sport for the first time, to the more experienced kiters who wants to refine his particular technical skills: freestyle, freeride, wakestyle, jumping. Furthermore the crystal clear sea often produces perfect waves, ideal for wave riding kitesurfing.
Learning to kite: safety first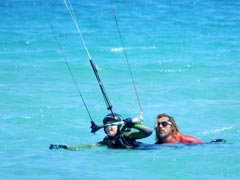 In the last few years kitesurfing has grown tremendously. Unfortunately as it often happens in extreme sports, it has produced a group of self-taught beginners who put their safety and the safety of others at risk. Self-taught kiters can cause accidents, which in some cases can be serious.
It is for this reason that it is of utmost importance to have a good basic training like for example managing the wind window, how to launch and land kites and the various safety release mechanism. All this whilst using the latest generation gear from trainer kites (small sized foil kites) to controlling large inflatable kites on the ground.
Once the basic skills of ground handling and kite control on land have been acquired, lessons are carried out in the water where students get individual attention during all the steps of body dragging, culminating into the water start.
Why Wet Dreams Kite School?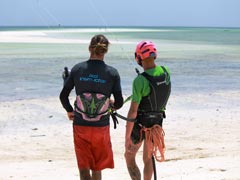 Wet Dreams, proprietor of concession for the launching of kites on the beach, has been since more than 10 years the reference point for kiters on this most sought after beach in the North of Sardinia for its beauty and its size: La Cinta.
To enrol in kitesurfing lessons with Wet Dreams kite school means having access to:
Latest equipment: Advance, Cabrinha, F-one, Groove, Underwave
Top professional attention from our team of instructors who are IKO and FIV senior officials
The recognised kite zone
Rubber duck assistance for safety and recovery
Radio contact helmets
Individual lessons in the water
Everything that you need for lessons to take place in a safe and easy environment, in optimum conditions for teaching even for kids (for teaching under 14 years of age permission is required from the parents).