Learn a fun sport, complete workout and accessible to everyone
What is Stand Up Paddle (SUP)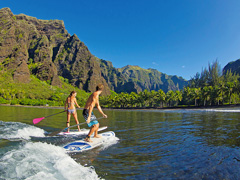 Stand Up Paddling is one of the fast growing sport with a large number of practicing people worldwide and in Italy.
Originally used for fishing in Polynesia SUP grows as a sport since 2004 in the Hawaiian island with a fast growing number of participant worldwide.
Similar to surf but standing on the board with the use of a specific paddle (Stand Up Paddle Surf) it's an easy fun accessible sport. To SUP in the right manner with a good paddling technique it's not only fun but a total body work out which helps to improve balance and coordination.
Beginner SUP course/Tutorial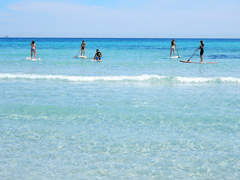 Wet Dreams offer instruction and a full equipment to learn this fun and easy access sport with full peace of mind. From the very basic to more advanced paddling technique all the way to the SUP surf in the waves.
The objective of this course is to be able of practice stand up paddling independently in a safe manner with all the necessary information required .
Beginner SUP (Stand Up Paddle Surf) course is based on three hours of lessons divided in three session of one hours each.
First session
What is stand up paddling, typology of boards
Equipment and how to use it
Balance on the boards and paddling technique
First approach to the water, first safety element<
Balance on the water
Second session
Understanding meteo conditions element
Safety leashes, how to fall the right way
Surf paddling
Knee paddling
Stand up Paddling
Third session
Cruising with the instructor
How to change direction
Quick paddling
3 hours – equipment and individual instructions included – EUR 80,00 *
* Deposit required at enrolment
Individual SUP lessons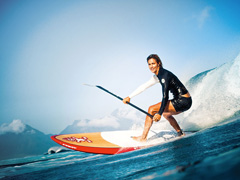 Book now your individual SUP lesson. One of our instructor will guide you thru the different steps of standup paddling techniques improving your skills while having fun.
1 hour – equipment and individual instructions included – EUR 40,00 *
* Deposit required at enrolment